S8VK-C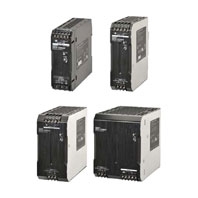 Three compelling reasons why the S8VK is the right power supply for you:

Resistant in tough environments
Omron is confident that the quality of the S8VK will exceed your high expectations. Its robust design and construction withstand harsh environments and provide stable operation over a wide operating temperature range. Because of high MTBF figures, your S8VK will keep running in stable condition for a long term.

Easy and fast installation
The S8VK series not only offers you greater flexibility when designing your machine, it also saves you time and reduces costs thanks to the minimal wiring requirements and easy one-handed mounting provided by the enhanced DIN-rail mounting clip.

The most compact class on the market
Designed with space saving in mind, the S8VK series is our most compact power-supply range ever and the most compact class on today's market.


⇒ FOR MORE DETAILS Click Here
---
⇒ TO VIEW PRODUCT CATALOGUE Click Here